Alongside our newly-revealed partnership with Ribbit.me, Spendabit is happy to announce the official launch of our Search Partners program.
Show-Off Bitcoin's Utility...
As the premiere "Bitcoin product search engine," part of our mission is to show the world crypto-currency is legit. We do this by demonstrating you can buy just about anything — anything one might purchase online — using Bitcoin. As a Spendabit Search Partner, you can aid in that mission by adding Spendabit's product search to your own website, blog, or app.
...And Make Money Doing It
A desire to spread the crypto-revolution isn't the only reason to join: Search Partners can earn a kickback when users follow through and make a purchase at one of our partner merchants.* In other words, if we make money, you make money.
Take Your Pick: HTML One-Liner or Powerful API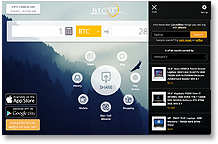 We provide two ways to integrate our search engine, making the Search Partners program suitable to everyone from the serious application developer to the modest blogger.
Using our 'embedded search' option, one can get started simply by copy-and-pasting a one-line HTML snippet. For the more technically-inclined, we provide a full-featured API, allowing tighter integration and flexible customization.
Spread the Word
If you'd like to help us "spread the good word" about Bitcoin by becoming a Search Partner — whether you're a Bitcoin wallet-provider, a blogger sympathetic to crypto-currency, or anywhere in between — get in touch via the form found here.
* Note, not all merchants on Spendabit are partners at this time, so not all purchases generate revenue. However, we are actively growing the number that do — so commisions are likely to grow in time, even if your traffic remains static.